---
SWEP 2.0: Going stronger and more diverse as 2020 unfolds!
---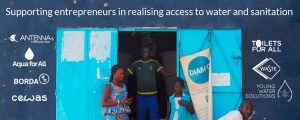 2019 was a year of intense reflection and hard work for the SWEP. We presented our vision for a global pact and value chain for WASH entrepreneurs at the Stockholm World Water Week, knocked at our partner's doors to convince them to join hands and put together a solid business model for the SWEP. Now, in 2020, we are reaping the fruits of all this hard labour. Not only have we validated and consolidated our vision and structure, we have also been enthusiastically joined by five new organisations that share our vision of a collaborative approach to entrepreneurship in water and sanitation.
 A very warm welcome to:
With this expanded network, we will have a stronger voice to influence agendas, expand our horizons beyond our respective silos and stop duplicating efforts. By joining hands, we will also channel funds more effectively, create trust, provide investors with an access to a less-risky pipeline of entrepreneurs and open new opportunities for them to pool funds. We are proud and happy to have built such a strong coalition of willing actors.
Stay assured, though that we will not rest on our laurels. The real work starts now! We are already working on several cooperative projects and collaborations in various areas of the water and sanitation entrepreneurship sector. More on that soon…stay tuned!