---
BASEflow: "Drilling boreholes is easy…. keeping the water flowing is the hard part!"
---

Muthi Nhlema has spent most of his working life in Malawi's development sector. Bothered by the lack of urgency around certain practices and outcomes in the field and the cases of "cosmetic charity" he witnessed, he created his own social business BASEflow in 2017. He wanted it to be the organisation that is brave enough to tell the truth and that finds real solutions for the water sector. BASEflow's current work focuses on addressing the lack of sustainability of groundwater supply in Malawi, notably by tracking and tracing the causes of non-functionality of boreholes, a project supported by Toilets For All. 
First, Muthi, could you please very briefly explain what BASEflow is all about?
BASEflow is a Malawi-based social enterprise working to improve the sustainability of groundwater resources for rural populations to have access to safe drinking water in rural Malawi by empowering both public and private sector actors with the appropriate knowledge, skills, technologies, and innovations to sustainably harness groundwater sources. We were established in early 2017 with a clear vision 'a world where no well runs dry'. Our slogan (which we think is pretty cool), '(re)discover groundwater', highlights the importance of reimagining our understanding of groundwater sources, in order to leverage it sustainably and meet the needs of rural populations in the context of an ever-increasing demand on this seemingly invisible resource. You can also watch our Believe video to know what drives us: https://www.youtube.com/watch?v=BCdQ0B7SqtE 
How is the water and sanitation situation in Malawi?
Groundwater is the primary source of safe drinking water in rural Malawi. Recent census data suggests that approximately 62% of Malawi's population, or roughly 11 million people, depend on groundwater, through handpump-fitted boreholes, for their daily survival and livelihoods. Nevertheless, despite government statistics celebrating a national water coverage rate of 89%, growing evidence suggests that 1/3 of water points are constantly non-functional and, as a result of this non-functionality, they reduce safe water access to just under 2/3 of the population. Imagine the wasted investment and a shattered trust of rural communities! There are several reasons for this unacceptable situation, but, in summary, it all stems from how the Malawi water sector functions or 'dysfunctions'. Not having access to safe water results in the spread of water-borne diseases, productivity losses and waste of water supply investments, which are estimated at US$ 54 million for handpumps alone. I do not believe Malawi has a water hardware problem, it has a sustainability problem; the conversation Malawi should be having is how do we keep the water flowing! 
So drilling more boreholes is definitely not the solution?
No, enough organisations are already doing that! And I estimate, by now, Malawi should have exceeded 100% water coverage given the massive investments made by bilateral and multilateral organisations in the last 5 years. More time, effort and investment should be directed at providing sustainable solutions that ensure long-lasting groundwater supply for generations. Focusing on sustainability means addressing the longstanding problems of environmental degradation, limited weak accountability structures, and sub-optimal operation and maintenance systems that have plagued Malawi's water sector for decades now. At the moment, the water sector, once vibrant and full of possibility, is in a state of inertia and reduced investment due to a loss of donor confidence to finance the same old ideas. Some of these long-standing problems are extremely complex to solve, which is probably why few have tried to solve them, but I believe, through disruptive collaborations, we can create a critical mass of thinkers and practitioners working to address them.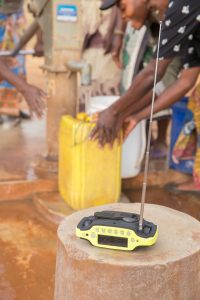 You have a very holistic approach to the water and sanitation problem, working along the whole chain, can you tell us a little more about the different aspects of your work and why you have chosen to approach the problem from various angles?
Our strategy aims to address persistent challenges that prevent sustainable water supply services for rural populations. Most of these challenges are not new and have plagued the water sector since the 1990s. Various research and assessments have consistently shown these to be persistent challenges to sustainable water supply in rural Malawi. Despite knowledge of these challenges, functionality figures remain relatively static, with the water sector stuck in a state of inertia. The factors affecting non-functionality today partially stem from the significant infrastructure developments which prioritised infrastructure installations, and gave limited considerations to other dimensions along the 'service delivery chain' that could ensure long-term service delivery. The holistic approach is built on focusing on those neglected dimensions and we are guided by four simple questions e.g. is the water resource adequate to meet the demand? Are the drilling or installation standards being followed? What happens to a drilling company or NGO that installs a bad borehole? Is there an effective system for maintaining the water point for the long term?  
Only focusing on answering one question or addressing one neglected dimension, without taking into account other dimensions, will yield sub-optimal results as any gains made in one dimension will be undercut in the others. Meaningful impact will require investing in the whole chain instead of only one dimension, and the utilisation of a multi-sectoral approach, which to date remains rare in Malawi's water sector. The challenges are considerable and will require boldness, innovation, and cross-sectoral collaboration to positively disrupt the inertia in Malawi's water sector and create a movement for change. 
You have a project called "Borehole forensics"…a very intriguing title indeed…what are you so closely investigating with the support of Toilets For All?
The word "forensics" implies a detailed investigation to track or trace the cause of something – usually we associate it with bad American TV shows about police procedurals that have long overstayed their welcome. In this case, Borehole Forensics refers to a detailed investigation of a borehole, both surface and subsurface, to determine the main cause of non-functionality. It comprises a series of tests that are conducted on the borehole including water quality, pumping test and a camera survey to name a few. We are proud to be one of the few, if not the only, social enterprise providing such a service in Malawi which gives us a competitive edge. That said, the value of borehole forensics is that we can generate data that could be used to hold service providers, e.g. drilling companies and NGOs, accountable especially if the borehole was not installed properly. 
While Borehole Forensics is an innovative methodology, it is purely a diagnostic process; when problems are found, we can rectify some of them but not all. One major problem we often encounter is that households construct their latrines with 50m of a borehole which is against the government regulations and increases risk of contamination to the borehole water. We often offer the household advice that the latrine should be demolished and another built elsewhere outside the recommended radius, but often this is not possible for poor households. This is why we were very excited in 2020 when Reto Wey from Toilets For All reached out to us and offered to support our field work through a co-financing facility for latrine construction. So the Toilets For All investment helped 6 households construct new latrines valued at USD 2400.00 with the household making in kind contributions in the form labour and raw materials. 
What motivated you to create BASEflow, how did it all start?
I have been working in the development sector most of my post-graduate life of 18 years, with most of it spent in the water sector in Malawi. In my time in the water sector, what bothered me quite a lot was the lack of urgency around certain practices or outcomes in the field. For example, in a previous job, I often witnessed cases of "cosmetic charity" where we would window-dress the impact of our work so we could please a social investor for continued funding. I often saw this and kept quiet, even though it bothered me deeply; but that doesn't absolve me of culpability. Then, on a number of occasions, I would present very inconvenient water-related data to sector stakeholders at workshops and meetings, e.g. dropping water table in some parts of Malawi or increasing proportionality of non-functional water point despite increasing number of new water points each year, and still there was little to no urgency to address them. 
So when the opportunity came to start BASEflow in 2017, I wanted BASEflow to be the organisation that was brave enough to tell the truth, even when it is inconvenient, and tackle the complicated problems that the sector has given up on trying to solve. This is why Boldness, Innovation and Transparency are our organisational values – they stem from this experience. 
With what business model are you operating and where do you find support for your initiative?
I have been fortunate and privileged to have the trust and confidence of the Scottish Government through the collaborative partnership we have with the University of Strathclyde. As a social enterprise, our partnership with Scotland is extremely important to us, not just because they cover our costs, but that they are willing to invest the time and resources to help BASEflow actualise its vision of being a legitimate and valued voice in Malawi's water sector through capacity building of my team and believing in our ideas for turning around Malawi's water situation. This support has also afforded BASEflow, and me, the opportunity to chart the course towards a sustainable future for the organisation. 
Having worked in the development sector for as long as I have, I know that NGOs are inherently unsustainable, which is why I prefer to call BASEflow a social enterprise. My vision is for BASEflow to sustain itself through the provision of borehole forensics and data management services through our commercial arm, BASEflow Services. This way, my hope is that, one day, the profits from the commercial work will cover our overheads so any project proposal we submit for our charitable work will not include overheads at all or, at least initially, offer reasonable co-financing as a comparative advantage. I am really excited with the market response to our package of services, where we have already received business from organisation like United Purpose, WaterAid and DFID just to name a few.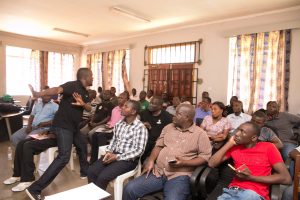 Could you share with us some of the biggest challenges you have encountered as a WASH entrepreneur and while building your water business?
The biggest challenge I have encountered as a WASH entrepreneur is finding the right talent. I strongly believe in the power of teams, the success of any company or organisation rests on how effective and motivated the team is. That said, the hardest thing to do is find the right mix of people to have on your team, not only in terms of skills or qualifications, but also in terms of attitude and shared vision. It does not matter to me if someone was top of their class, if they are not a team player, willing to go the extra mile for their team mate, service or customer oriented (putting money first before the customer is a major red flag for me) and have a sense of humour, then I frankly do not want you in BASEflow.  But it is extremely difficult to find people who tick all these boxes. There have been times when I thought I had found the right person only to be disappointed later on, and, other times, I have had my doubts about some staff who have gone on to surprise me to the point that I can rely on them. 
This is why we have a rigorous recruitment process where candidates sit through personality tests or even undertake some tasks in the field in front of actual beneficiaries who score the prospective candidates. It's not that I enjoy watching people suffer, it's what I find works to help me find the right mix of people.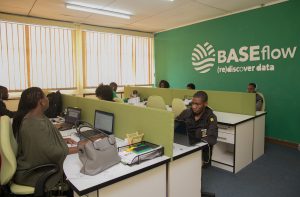 Has your business been affected by COVID? How are you coping?
COVID, like everywhere, has impacted on our operations, not just in terms of travel restrictions, but also in terms of lives of people related to my staff. This has had a knock-on effect in terms of staff morale as you can imagine. So as much as we'd like to move on from this pandemic and pursue opportunities, I and my leadership team have chosen to be empathetic and give people time off to cope and to grieve. This is an unprecedented time in human history, there is no business continuity plan for something like COVID. The best, I feel, I can do for my team is to be human.  
COVID, strangely enough, has been a vindication of sorts. When I started BASEflow I wanted to have low overheads and the only way I could see that happening was to have a virtual office. But, unfortunately, in Malawi, an organisation is only considered legitimate if it has office premises. So the current working from home arrangement is a kind of test-run for how a virtual office could run. But I hope COVID, like many things, will change people's perception of what constitutes an office in the 21st Century. 
What do you wish for as a water entrepreneur, what would you need or where are the gaps?
Besides the talent issue I raised earlier, I would wish that the market, in Malawi and abroad, was open to taking a risk on a young and vibrant social enterprise that wants to try something different. On too many occasions, I have received the same feedback on our proposals from potential financiers who said our ideas were either too unique or that we were too new to take a risk on. Ironically, one of those financiers was an innovation fund 🙂 . So if i had a magical wand and could make any wish I wanted (besides wish for an endless holiday in the Bahamas), I would wish financiers and customers were willing/open to taking a calculated risk on trying out The New Kid On The Block. 
How do you see the future? What would be the next steps for BASEflow?
My priorities for this year (and probably into next year) are two fold: (i) Building new partnerships for impact in our strategic areas of our charitable work; and (ii) To grow the customer base of BASEflow Services through Borehole Forensics, Data Management Services and low-cost bleach production. 
The purpose of all of these is that I want to build a financially sustainable and innovative social enterprise that is not only exciting to work for, but also exciting to work with. There is so much we want to do that could only be done with unrestricted financing, i.e. the profits generated from our commercial work. We have started using some of our profits to finance monitoring support for some communities we work with, particularly after donor funding comes to an end. I want to have the freedom to do more of that and not be restricted due to money, but that takes us, well me, making a case and demonstrating the value that BASEflow brings. We are slowly getting there, I wish we would get there faster.