---
Listen to our podcast!
---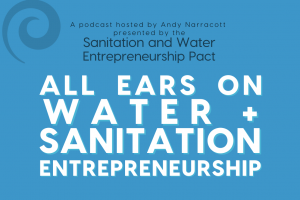 STORIES, INSIGHTS, LESSONS LEARNT AND TIPS AND TRICKS ON HOW TO GROW AND SUSTAIN A WASH BUSINESS
Join us for the 5-part mini-series!
---
EPISODE 5 Measuring Impact as a WASH Business
In this episode, we are looking at the impact measurement side of water and sanitation businesses.
The host, Andy Narracott, is joined by Tono Aguilar, President of CASSA, a social enterprise providing sustainable, social housing in Guatemala. And Paul Gunstensen, Director of WASH at the Stone Family Foundation. 
The episode covers:
Why you should measure the impact of your social enterprise
Using IRIS indicators of impact, and mapping them onto the SDGs
What the Stone Family Foundation looks for in impact measurement
How to choose what to measure
How the SFF evaluates each investment opportunity 
Advice for other social entrepreneurs
---
EPISODE 4 Finding and keeping great staff for your WASH Business
Water and sanitation businesses that serve basic needs are not high-margin businesses. Therefore, there's never going to be enough money to compete with more profitable businesses on salaries. Equally, local players often only see the opportunity to provide a service, but rarely see the complexity of building a business to attract and keep staff with the right skills and capacity. 
On this episode, Andy Narracott talks to Baker Bozeyeh, Co-Founder and CEO of Flowless to understand the challenges from the perspective of an early-stage business. Then he speaks to Marc Aoun, Co-founder of Compost Baladi in Lebanon and Sebastian Hamers who's a Partner at Human Insight, to hear their reflections on these challenges.
Finally, Michael Kropac, Co-Director of CEWAS to share his key takeaways from the interviews.
---
EPISODE 3 Raising investment for WASH Businesses
Private and institutional investors are typically looking to make investments above what an average WASH entrepreneur can absorb. Yet there are few investable WASH businesses anyway. The majority are informal, have irregular revenues and do not make much money.
When entrepreneurs do meet investors, they need to learn the language of investment.
On this episode, Andy Narracott talks to Beth Koigi, Co-Founder of Majik Water, to understand the entrepreneur's perspective on challenges raising investment. Then he speaks to Mona Mijthab, Founder of Mosan in Guatemala and Landry Parkouda, Co-founder at Forth Investment in Burkina Faso, to hear their reflections on these challenges.
Finally, Reto Wey, Co-founder of Toilets4All Foundation, shares his takeaways from the discussion.
---
EPISODE 2 Partnering with Government
Water and sanitation services are often seen as a public good, so the line between public and private responsibility is blurred. In many regions, the WASH businesses face many restrictions, such as regulated tariffs, licences and heavy taxes. In many countries, legal frameworks, policies and incentives for water and sanitation put limits on the ability of entrepreneurs to operate in the sector.
On this episode, Andy Narracott talks to Dickson Ochieng, Director of Government Relations at Sanivation, about their pioneering work partnering with cities to help them safely manage their waste. Then he speaks to Pamela Bundi, country coordinator for the FINISH programme in Kenya and Ibrahim Basweti, Principle Public Health Officer with the Ministry of Health in Kenya.
Finally, Raphael Graser, Water & Hygiene Unit Manager with Antenna Foundation shares his takeaways from the discussion.
---
EPISODE 1 Raising Grants for WASH Businesses
Raising grants for water and sanitation businesses has its challenges. Grants are important for water and sanitation businesses serving low-income populations because the gap between what people will pay and the cost to provide these services is usually quite large. So, grants are often used to help businesses innovate to lower the costs, but also to cover some of their setup costs in the first place. 
On this episode, Andy Narracott talks to Joyce Klu, Founder of Mobile Alert Toilets, about her challenges raising grants for her early stage business. Then he speaks to Titia Wouters, Regional Manager for West Africa with Aqua for All and Kishan Nanavati, CEO of Spring Health in India to explore this topic in more detail.
Finally, Miles Bell, Programme Officer with Young Water Solutions give some perspective on how the interview relates to the wider ecosystem of WASH entrepreneurship.