Growing up as a teenage girl, Bernadette mostly used toilet paper to manage her period. Not an uncommon situation in Uganda where every one in four teenage girls drops out of school once they begin menstruating for lack of access to menstrual hygiene products. Today, Bernadette is the proud founder and CEO of WABIBI Pads, a social business that has locally produced and distributed over 50,000 packs of sustainable reusable sanitary cloth pads. Bernadette also trains girls and women to make their own reusable sanitary pads and educates them about menstrual hygiene management. Read her inspiring story below. Also, don't miss our article Entrepreneurship beyond stigma: How to boost female and hygiene startups for the BoP -What needs to happen for female-led gender-focused WASH businesses to emerge and strive?
Bernadette, what was your motivation behind creating WABIBI PADS, how did it all start?
Before founding WABIBI PADS, I pursued several different jobs, but I kept looking for more purposeful employment and living. I had a sewing machine, gifted by a friend, sitting in one of the corners of my house. I had no sewing skills whatsoever and had never put it to good use, but little by little I taught myself how to sew by watching Youtube tutorials. And then one day, while I was sewing, suddenly my period started and I had no pads except for one piece of disposable pad left from my previous cycle. I thought of using cloth strips that week as I had so often done when I couldn't afford pads. That's when I had the idea of making a leak proof cloth pad using some of the materials that I had in my house. I traced out the disposable pad that I had left on a piece of cloth, one of my son's bed sheets, and used material from his wet mat as my leak proof fabric. I made my first ever pad and showed it to my neighbour who was then working for Days For Girls (DFG). Oh my God.. when she saw the pad I had made, she told me that she would use my design and sell it to her clients instead of what she was making at DFG. That's when I knew that I had created an awesome product that could help change the wellbeing of many women and adolescent girls in Uganda.
What happened to WABIBI PADS then?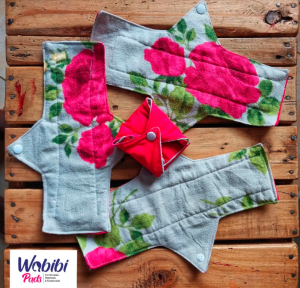 I was going about with my newfound hobby of making cloth pads, when a friend who was starting up an NGO in South Sudan called me and invited me to her home in Nansana so I could teach her how to hand-stitch cloth pads. I was so excited that I recorded and shared the training session on my social media accounts. And on that very same day, someone in the UK saw my work and asked me to make some pads for one of the most marginalized communities in Kiseny-Mengo, where a high number of refugees, street women and girls live. I donated these pads to the menstrual station of the Wellbeing Foundation there. This was the turning point for me, I understood that my calling was to create sustainable solutions for those that needed them most and since then it has been a rather intentional journey for me.
What is the situation in Uganda in terms of menstrual hygiene management ?
Sanitary pads are quite expensive and many girls and women cannot afford to buy them. When we started, we carried out a community survey in Kamwokya, an urban slum in Kampala, in the bid to find out what women and girls use during menstrual periods. After the survey, we discovered that over 60% of women in that community were unable to afford monthly disposable products and therefore ended up using unhygienic solutions like newspapers, old cloth rags and toilet paper. Because of this situation, many girls miss school when they are menstruating or even drop out. According to the Ministry of Education, as of 2019, nearly one in every four Ugandan girls between ages 12 to 18 drops out of school once they begin menstruating. Dropping out of school decreases their likelihood of escaping the cycle of poverty and increases their chances of early marriage and motherhood.
How do you feel about the menstrual hygiene situation in Uganda and in general around the world? What made you so passionate about this topic?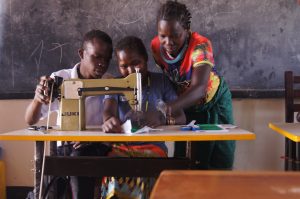 Over 500 million women and girls in the world still lack access to affordable menstrual products. That's a staggering number! A few countries like Scotland give out free sanitary products, but in Uganda, 28% of schoolgirls still miss 4-5 days of school on average every month due to a lack of access to menstrual products. This affects their overall performance in class and leads to early school drop-out. The girls who suffer period poverty come from poor communities, slums or some rural areas like Karamoja where I am from and where many parents are unemployed and unable to fend for both food and menstrual hygiene products. I personally also had to use toilet paper in school growing up, because my mother could not afford more than one pack of single use pads every month.
You decided to take matters into your own hands by creating WABIBI PADS, what exactly is your solution?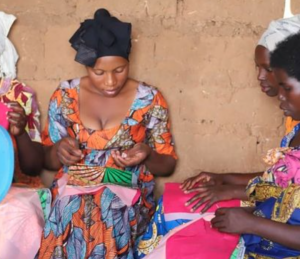 We launched our own social business to tackle menstrual hygiene management and period poverty among women and girls in the most marginalised communities in Uganda through production of sustainable and environmentally friendly reusable (cloth) sanitary pads. Our all-female production team is trained to stitch our high-quality, absorbent, and reusable pads. Most of these women come from underprivileged and marginalised backgrounds. The Wabibi Pads initiative empowers these women by creating an opportunity for them to develop some skills and earn a living. We also train girls and women to learn how to make their own reusable sanitary pads and educate them about Menstrual Hygiene Management. We are for instance currently running the 'Girl-H (Girls Improving Resilience through livelihoods and Health) project in partnership with Mercy Corps that will see 250 pastoral women in Karamoja learn how to sew pads and turn it into an economic activity to support resilience, health and also change their livelihoods, as well as those of their children. This is a great opportunity for women knowing that Karamoja suffers very high rates of unemployment. We have also just signed a temporary contract with Save the Children where we are going to train 300 school children in Karamoja to make pads. 
Your business has grown very quickly, no?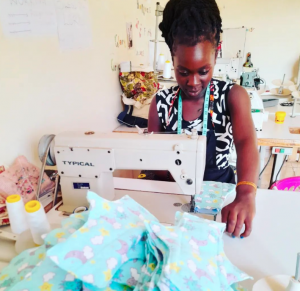 Indeed, since we started WABIBI PADS we have locally produced and distributed over 50,000 packs of reusable sanitary pads to schoolgirls and women living in refugee camps, urban slums and rural areas. And we trained over 4,000 women and girls in the art of making their own reusable sanitary pads to help them create their own businesses and get out of poverty and unemployment. We are currently employing 10 women and 5 men as full time staff.
It's not always easy to be a social entrepreneur, what challenges did you encounter on your entrepreneurial journey and where do you find support?
When I began on this journey, I didn't think that this was going to turn into a serious venture. I had set up a social media presence, but I had no idea of how to run a social venture. Then when the orders kept me up all night, I realised that I needed a team of women to work with me. Then came the formalisation stage in which we had to give up our brand name, the one with which we had built our business for almost a year. The Uganda Registration Service Bureau (URSB) told us they couldn't give us the name Pads for Her, because it was a sentence and not a word and asked us to find another name. We had no choice but to change our name. I think this was one of the most challenging times for my business, since we had already written and sent proposals under the old name. Then, over the first 2 years of our business, we had challenges in terms of marketing strategies, customer segmentation and managing our internal system and also understanding the whole WASH ecosystem and how to align our mission and vision. But after the first Young Water Fellowship Boot Camp, my whole business perspective changed and I was ready to put everything I learned into practice. All this journey wouldn't have been possible without the support of Young Water Solutions, cewas and our local partner WASEU who have really helped us to grow. We got nominated and won the Uganda Needs More of U campaign and gained more customers and partners. I also want to thank the Roddenberry Foundation which has supported us all along by donating pads to underserved communities and supporting our internal work.
What are your plans for the future? Any dreams?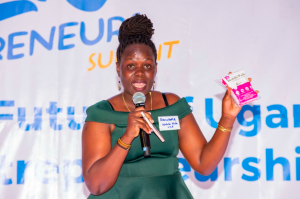 Our future plan is to expand our work outside Uganda, but first we are looking at creating franchises in Uganda. These franchise businesses will be run by women and create further employment opportunities for women in marginalised communities. 
My personal dream is to set up a social business that is owned by women in the most marginalised communities, so they can make profits and change their livelihoods. I want to see all the girls in rural areas able to attend school and have no worries about period poverty anymore. I would like to see a world where every woman has access to sustainable menstrual products that are affordable and also comfortable.